Activated Carbon Block Filter Cartridge
Product Detail
Product Tags
◆Excellent adsorptive capacity,high particles removal efficiency
◆High chlorine taste and odor reduction;
◆Long service life;
• Pre-filtration or pre-treatment in RO applications;
• Chlorine and odor removal;
• Clolor reduction.
Table :  Typical water flow rate (10")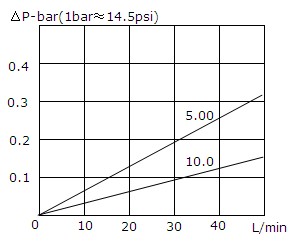 Materials Of Construction
Filter Media:
Common Activated Carbon/Coconut Shell Carbon
Micron Rating:
5.0 um
Inner core:
Polypropylene Non-Woven Cloth
Outer Cage:
Polypropylene Non-Woven Cloth
End caps:
Polypropylene
O-rings/gaskets:
Silicone
Removal Efficiency:
≥90%
Cartridge Dimensions
Outer Diameter
65mm(2.5")
Inner Diameter
28mm(1.1'')
Length(based on DOE end caps)
10"- 254mm, 20"- 508mm
Filtration Area(m2)
0.4 m2 per 10''
Operating conditions
Normal Operating Temperature:
Up to 55℃ (140℉)
Max. Differential Pressure
Normal Flow direction:
4.0 bar (58 psi) at 25℃ (77℉)
Reverse flow direction:
2.0 bar (29 psi) at  25℃ (77℉).
PRODUCT
MICRON
ADAPTER
MATERIAL
LENGTH
                    O-RING / GASKET
CTO
500-5um
AA- DOE
A-Common Carbon
10-10"
 S-silicone;       N-nitrile
B-Coconut Shell Carbon
20-20"
 E-epdm ;
How to Order?- Example
Micron:5um; Length:10"  ADAPTER: DOE;              Gakset: Silicone.                                                                                                     Selection Code is: CTO500AAA10S
---
Previous:
Titanium Sintered Filter Element
---
---
Previous:
Titanium Sintered Filter Element