Multi Layered PP Pleated Filter Cartridge
Product Detail
Product Tags
◆ Multi layers fine polypropylene membrane offer superior dirt holding capacity
◆ High flow rate and excellent filtration efficiency
◆ Complete Polypropylene structure, wide chemical compatibility
◆ Suitable for the fluids which is high viscosity or contain high bio-burdens
◆ Replace Sartorius ,Pall or Millipore Filter is available
•High viscosity fluids, such as syrups;
•Wine, Beer, Juice and mineral water in beverge industry;
•Ink, Solvents, plating solutions;
•Prefiltration of R.O. system in electronics industy;
•Oral Liquids, Parenterals, Ophthalmics, Vaccines and other pharmaceuticals.
Table :  Typical water flow rate (10")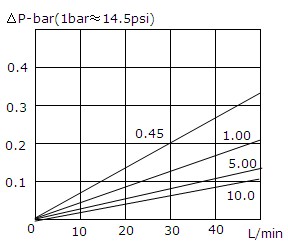 Materials Of Construction
Filter Media:
Multiple layers Polypropylene
Support Layers:
Polypropylene
Micron Rating:
0.2, 0.45, 1.0, 3.0, 5.0, 10, 20 um……
Inner core:
Polypropylene
Outer Cage, End caps:
Polypropylene
Seal Method:
Thermal Bonded, No Adhesives
 O-rings/gaskets:
Silicone, Nitrile, EPDM, Viton, Teflon, etc
Cartridge Dimensions
Outer Diameter
69mm(2.75'')
Inner Diameter
33mm(1.30'')
Length(based on DOE end caps)
10"- 254mm, 20"- 508mm, 30"-762 mm, 40"- 1016mm
Filtration Area(m2)
0.60 m2 per 10''
Operating conditions
Normal Operating Temperature:
Up to 55℃ (131℉)
Max.Operating Temperature.:
80℃ (172℉) at △P≤1.0 bar (14psi)
Max. Differential Pressure
Normal Flow direction:
 4.2 bar (60 psi) at 25℃ (77℉)
Reverse flow direction:
2.1 bar (30psi) at  25℃ (77℉).
PH Value compatibility:
 1-13
Sterilization:
Flush with hot water at 82℃(180℉) for 30 minutes,
at △P≤1.0 bar (14psi)
Cartridge Safety
Endotoxin:
<0.25 EU/ml
Extractables:
0.03 g / 10"
GRADE
PRODUCT
MICRON
ADAPTER
LENGTH
   O-RING / GASKET
P- PHARMACEUTICAL
RPP
045-0.45um
AA- DOE
10-10"
 S-silicone;      N-nitrile
F- FOOD & BEVERAGE
100-1um
CN-226/FIN
20-20"
 E-epdm;         T-teflon (encaptulated)
E- ELECTRICAL
500-5um
BN-222/FIN
30-30"
 V-viton
G- General
1000-10um
BF-222/ FLAT SEAL
40-40"
How to Order?- Example
CF-226/FLAT SEAL
05-5"
Pharmaceutical grade; Micron:0.45um; Length:10"  ADAPTER: DOE; Gakset: Silicone.                                                                                                     Selection Code is: PRPP045AA10S
EN-222 three locking  ears /Fin
Other-XX
---
Previous:
Hydrophilic PTFE Filter Cartridge
---
---
Previous:
Hydrophilic PTFE Filter Cartridge